POLIS University announces the lists of all applicants who have chosen POLIS University programs on the State Matura portal
2022-08-11 10:33
POLIS University announces the lists of all applicants who have chosen POLIS University programs on the State Matura portal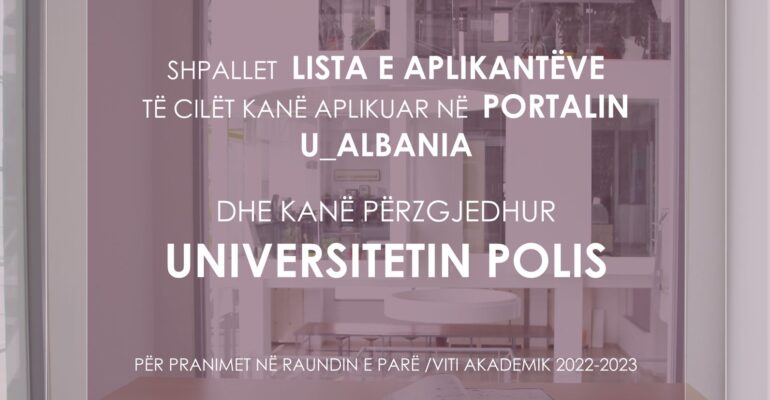 POLIS University announces the lists of all applicants who have chosen POLIS University programs on the State Matura portal
POLIS University announces the lists of all applicants who have chosen POLIS University programs on the State Matura portal to continue their studies in the academic year 2022 – 2023.
Click on the program you have selected to view your application:
Bachelor:
• Business Administration
• Art and Design
• Environmental Studies
• Construction Engineering
• Computer Science
Integrated scientific master programs:
• Architecture and Urban Design
• Urban Planning and Management
We announce that all candidates must appear on one of the dates 15,17; August 19 and 22,
at 10:00 a.m., to participate in the admission test at the university premises.
For this purpose, the following documentation is required:
 Photocopy of identity card / passport
We encourage you to confirm the day of the test by contacting the following:
Admissions Unit: +355 69 40 88 111
Marketing: +355 69 40 61 339
Tel: +355.(0)4.2407420 / +355.(0)4.2407421
Fax: +355. (0)4.2407422
Email: contact@universitetipolis.edu.al
Website: www.universitetipolis.edu.al
Welcome!