Innovation Factory
2023-04-18 17:28
Innovation Factory
Founded in 2019, Innovation Factory is an interdisciplinary unit within Polis University that seeks to support researchers, students, young creators, entrepreneurs and businesses to innovate. At the intersection of design, technology and entrepreneurship, IF operates conceptually by generating technical expertise and knowledge in and for the ecosystem, and as a physical space offering opportunities for digital prototyping and fabrication through its latest 3D printing and scanning technologies. Makerspace is the first FabLab of its kind in Albania. It works on the micro (small objects and housing) and macro (public space, city and territory as a whole) scale. The Makerspace has been designed and built in collaboration with the EU and their 'Innovation Project' which has enabled investment in laboratory environments and a range of equipment that allow students, researchers, start-ups and young makers to design, experiment and fabricate their own models and prototypes, bringing together industry and academia through a mix of teaching, learning and doing (triple helix).

IF,Innovation Factory, is a "Multi-Disciplinary Unit" of U-POLIS specialized in innovation, which engages third research units of each Faculty. Specifically, this unit includes:
MakerSpace Architecture, Design and Engineering Research Center at FAD Faculty
Observatory Research Center of Sustainability at the FPMMU Faculty
BiblioPress The Resource and Information Center at the FKZH Faculty
MakerSpace– it's a "FabLab 3D" atIF Innovation Factory, supported by U-Polis, EU4Innovation, GIZ and SIDA.
Observatory– or OMB (Mediterranean Basin Observatory) is:
"Center of Excellence for Resilient Settlements" of UNECE (United Nations Economic Commission for Europe) focused on issues of housing, planning and sustainable development.
Representative of the Western Balkan region in the "Initiative of Schools of Architecture and Urban Planning of the Mediterranean" within the UfM (Union for the Mediterranean).
This research unit also includes "LMUP – Environmental Laboratory" certified for analysis and services by the Albanian authority, as well as publishes the magazine "Habitat Magazine".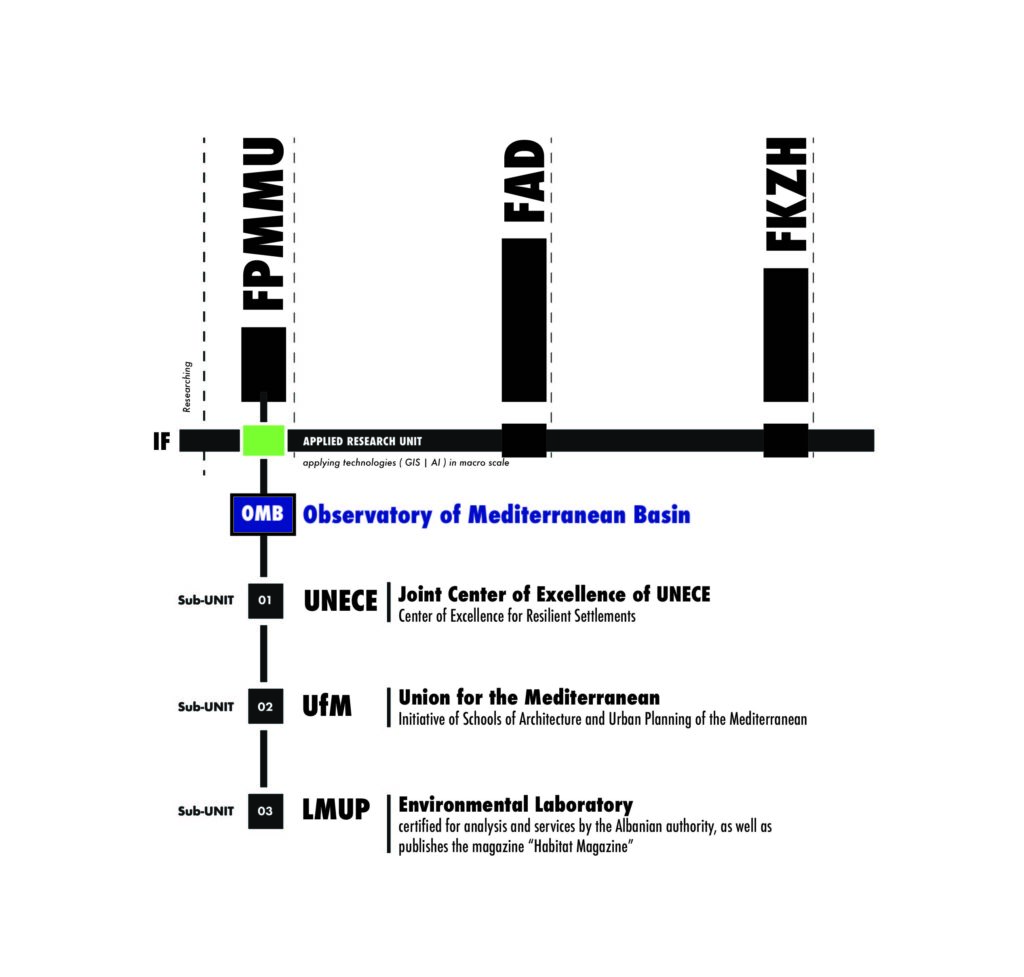 BiblioPress – or QBI (Resource and Information Center) is a specialized unit for:
Biblio-Polis(Library of Polis University) which is organized in the "hard/physical" version with over 10 thousand titles of specialization fields in Polis, and "soft/online" (EBSCOdhe JSTOR).
Polis-Press(Polis University Publishing House) which is organized into several components: scientific journals, other journals, textbooks, monographs, translations, etc.
The laboratory meanwhile seeks to build expertise by creating reliable research and entrepreneurial skills in the fields of design, architecture, urban planning and technology, by attracting talent in strategic areas to activate innovation transfer processes. Facilitating horizontal collaboration between the university, entrepreneurs, businesses and local agencies has been a guiding principle since the beginning, aiming to build interdisciplinary structures that cultivate networks and help set milestones for an innovation-focused approach to both research and for entering and adapting to the labor market, a focus that can be achieved by supporting the commercialization of research through the ideation and creation of startups.
To date, IF has supported over a dozen early-stage startups, one of which is fully operational today in the market, while two others are finalizing their market entry strategies. As the first organization to fill this gap in the local ecosystem, what makes the lab unique is the combination of managerial and entrepreneurial knowledge with technical knowledge, as well as the possibility for manufacturers to test and optimize the latter in our Makerspace. In addition to increasing the portfolio of projects, IF has collaborated with a number of organizations in the local and European ecosystem of research and innovation, such as Tirana Inc., the first multi-university incubator in Albania, Albania Tech, a platform that aims to increase our visibility from key ecosystem players in the country, and PRENEURZ Amsterdam, a Dutch consultancy that supports universities to bridge the gap between academia and industry. IF also cooperates on a macro scale with institutions with global, European and bilateral impact, such as BE, UN/UNECE, UfM, GTZ, SIDA, etc.