Ledio Allkja
2023-03-28 21:06
Ledio Allkja
Lecturer in Territorial Planning
LEDIO ALLKJA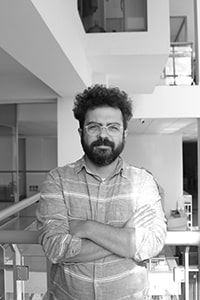 Dr. Ledio Allkja is specialized in the field of territorial planning. He has over 10 years of experience in the field of planning and academic engagement at POLIS University. Ledio is engaged in the subjects of Planning Systems, EU and Territorial Policy as well as in the leadership of the territorial planning diplomas.
During the period 2020-2022, Ledio has been engaged as the leader of the network of Young Academics of the Association of Territorial Planning Schools in Europe. Beyond teaching, Ledio has a wide experience of implementing and managing various projects at the national and international level at Co-PLAN.
Ledio defended his doctorate at the Technical University of Vienna in the field of territorial planning with the diploma title "Europeanization of planning systems, the case of Albania" in 2020. In 2012 he completed his master's studies at the Radboud University of Nijmegen (Holland) in the field of "European Spatial and Environmental Planning", while in 2011 he completed his bachelor's studies at the UWE University in Bristol (UK) in the field of "Territory Planning and Development Properties".
Allkja, L (2020) "From Neighbourhood Self-Organization to City Building: The case of Bathore", in Salet, D'Ottaviano, Majoor and Boyssuit (eds) "The Self-Build Experience- Institutionalization, Place-Making and City Building", Bristol University Press
Allkja, L (2019) "Spatial Planning and Territorial Governance in Albania and Kosovo", Annual Review of the Territorial Governance in WB
Allkja, L (2019) "Unlocking financial potentials through urban planing for Renewable Energies in Tirana", SIU Conference, Bari, 5-7 June 2019
Greca, A., Shutina, D., Toto, R., Allkja, L., Toska, M., Aliaj, B., (2019) Benchmarking Report on the Implementation of General Local Territorial Plans in Albania, Tirana: PLGP
Favro, T., Toto, R., Allkja, L., Shutina, D., Aliaj, B., (2019) Financial Instruments of Land Development and Preparation of Local Detailed Plans- Toolbox, Tirana: PLGP
Allkja, L (2018) "Europeanization of Spatial Planning in Albania", Annual Review of Territorial Governance in Albania, 1 (1), pp38-55
Toto, R., Allkja, R (2018) Land Development in Albania, Challenges and Innovation, Annual Review of Territorial Governance in Albania, 1 (1) pp55-69
Allkja, L (2018) Renewable Energy and Spatial Planning in Albania: Can Spatial Plans be the promoters of new energy systems in Albania? Tirana Architecture Weeks, International Conference, Co-habitation Tactics, September 2018
Allkja, L., (2018) "Comparison of Territorial Governance and Spatial Planning in Albania and Kosovo"; AESOP ANNUAL CONGRESS 2018, Gothenburg
Allkja L, Marjanovic M (2017) "Europeanization of Spatial Planning Systems- Comparative Study between Albania and Serbia"; XXXII Congresso geografico italiano; 7-10 Qershor 2017; ROME
Allkja, L. (2017) "Cross border Cooperation in Western Balkans- a Comparative analysis of cross border experiences between Albania-Kosovo and Albania-Greece" AESOP ANNUAL CONGRESS 2017 LISBON: SPACES OF DIALOG FOR PLACES OF DIGNITY: Fostering the European Dimension of Planning