Klodjan Xhexhi
2023-03-27 23:00
Klodjan Xhexhi
Doctor of Science in Architecture
KLODJAN XHEXHI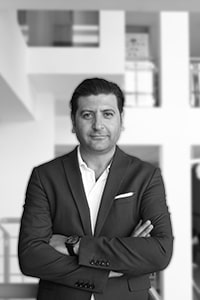 Dr. Klodjan XHEXHI is the Head of the Department of Applied Research at the Faculty of Research
Development. Dr. Klodjan Xhexhi has 13 years of academic experience at the national level and
international, giving his contribution to teaching at FAU (Faculty of Architecture and
Urbanism); and Epoka University. He currently holds the position of Head of the Department
of Applied Research at Polis University, Tirana, Albania. He has always been in touch with
professional literature in the field of architecture, expressing great interest and passion
for it.
His career as a professional designer in the field of architecture began in the year immediately after
graduation. Being part of a well-known design studio in Tirana, Albania (Studio Enigma) as
and after one of the most important groups in Albania (Hysenbelliu Group), he also has one
extensive experience in the field of design and implementation by designing and implementing a series of works
important architectural.
He has published a number of publications and participated in various international scientific conferences.
Immediately after receiving the degree of "Doctor", he published his first book in the field of architecture.
His interests are mainly focused on the field of construction materials, technology
sustainable architecture and design.
2012 – S. Eryildiz, K.Xhexhi "Eco cities" under construction" – Gazi University Journal of Science, Turkey
https://atif.sobiad.com/index.jsp?modul=makale-detay&Alan=fen&Id=AWG42QytoDuH9Br_eNsM
2019—K. Xhexhi, P.L. Meunier "The influence of different age buildings in people Lifestyle-Case of Kruja
(Albania) –Horizon research publishing corporation, USA;
https://www.hrpub.org/journals/article_info.php?aid=8153
2019—K. Xhexhi, P.L. Meunier, A. Maliqari "Evaluation of mathematical regression for historic buildings
typology case of Kruja (Albania)"–International journal of science and research (IJSR);
https://www.ijsr.net/archive/v8i8/ART2020154.pdf
2020— K. Xhexhi, P.L. Meunier, A. Maliqari "Determination of Temperature-Moisture Relationship by
Linear Regression Models on Masonry and Floor, Kruja, Albania" –EJERS, European Journal of
Engineering Research and Science; https://ej-eng.org/index.php/ejeng/article/view/1871
2020—K. Xhexhi "Metaphor in Eco Architecture" –iJournals: International Journal of Software&
Hardware Research in Engineering; ISSN-2347-9698; Volume 8 Issue 8 August 2020; DOI<
10.26821/IJSHRE.8.8.2020.8804> ; http://ijournals.in/wp-content/uploads/2020/08/IJSHRE-8812-
Klodjan-Xhexhi.pdf
2020—K. Xhexhi "Vertical Bionic City, New Futuristic Footprint" –International Journal of Innovative
Research in Science, Engineering and Technology (IJIRSET); ISSN: 2319-8753;Volume 9, Issue 10, October
2020; http://www.ijirset.com/upload/2020/october/3_Vertical%20_NC.pdf
2021 –- K. Xhexhi "Fortified Historical Dwelling Reevaluated in Modern Context, Gjirokastra, Albania" — Quest Journals Journal of Architecture and Civil Engineering Volume 6 ~ Issue 1 (2021) pp: 25-34;
https://www.questjournals.org/jace/papers/vol6-issue1/D06012534.pdf
2021 –- K. Xhexhi "The impact of building materials in inhabitance lifestyle" –Book, Generis Publishing;
ISBN 9781639028627 https://www.generis-publishing.com/book.php?title=the-impact-of-buildingmaterials-in-inhabitance-lifestyle
2022- Ndoj, G., Kastrati, A., Elezi, E. and Xhexhi, K. 2022. Capacity of Self-Sealing Concrete Embedding
Crystalline Admixture. European Journal of Engineering and Technology Research. 7, 2 (Mar. 2022),
76–80. DOI:https://doi.org/10.24018/ejeng.2022.7.2.2762.
2022- S. Qorri, S.Sejdini, K.Xhexhi " Presence of Asbestos in Albania, an Approach" International Journal
of Latest Research in Engineering and Technology (IJLRET)
https://www.academia.edu/73591295/Presence_of_Asbestos_in_Albania_an_Approach
2022- E.Duka, Xh. Molla, E. Beqiraj, K.Xhexhi "Comparative analyze of thermal and tension strength
properties of Alpolic and Durabond aluminum composite panels, case study Tirana, Albania" Journal of
Multidisciplinary Engineering Science and Technology (JMEST)
https://www.jmest.org/wp-content/uploads/JMESTN42354002.pdf
2022- R. Kukeli, J. Kotarja, H. Shehaj, K.Xhexhi "Analysis of the Moisture Content and Temperature
Levels in Different Types of Brick Walls–Case of Tirana, Albania" International Journal of Modern
Research in Engineering and Technology (IJMRET)
https://www.ijmret.org/paper/V7I2/8954169558.pdf
2022- S. Shehi, M. Bufi, I. Karaboja, K.Xhexhi "Noise Pollution Analysis in External Masonries of Heavy
Traffic Roads, Case Study Tirana, Albania" International Journal of Modern Research in Engineering and
Technology (IJMRET) https://www.ijmret.org/paper/V7I2/8954169551.pdf
2014—K. Xhexhi "An architectonic glance over the national museum "Gjergj Kastriot Skenderbeu", Kruja – ICAUD 2014 http://dspace.epoka.edu.al/bitstream/handle/1/1027/252.pdf?sequence=1 2014—K. Xhexhi "An Architectonic Recovery Plan over the North-East Historical Sector of Tirana, Albania" –ICAUD 2014 http://dspace.epoka.edu.al/handle/1/1080 2017—K. Xhexhi "The influence of different age buildings in Kruja's people lifestyle"- IFAU 2017 https://issuu.com/floriannepravishta/docs/ifau17__abstract_proceedings_book_o/21 2020— K. Xhexhi, P.L. Meunier, A. Maliqari "Comparative Mathematical Analyses Between Different Building Typology in the City of Kruja, Albania; publication" –Test engineering and management; Published by: The Mattingley Publishing Co., Inc., 2020. http://www.testmagzine.biz/index.php/testmagzine/article/view/6790 2020—K. Xhexhi, P.L. Meunier, A. Maliqari "Mathematical Evaluation Methodology Among Residents, Social Interaction and Energy Efficiency, For Socialist Buildings Typology, Case of Kruja (Albania)" –Test engineering and management; Published by: The Mattingley Publishing Co., Inc., 2020 http://www.testmagzine.biz/index.php/testmagzine/article/view/6762
Certificate in: "Energy Auditing" course – Polis University
Certificate in: ERASMUS + INTERNATIONAL CREDIT MOBILITY PROJECT N. 2019-1-IT02-KA107-061718-
Universiteti Polis, Albania- Universita dei studi Molise, Itali