Godiva Rembeci
2023-04-03 20:39
Godiva Rembeci
Doctor in economic sciences
GODIVA RREMBECI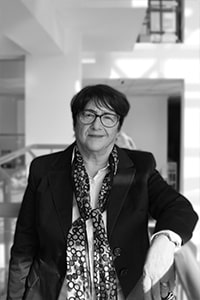 Dr. Godiva REMBECI is the Head of the Department of Urban Planning and Management, which includes the bachelor programs BBA, Integrated Scientific Master of Planning, Scientific Master in BA and Professional Master in GIS.
Dr. REMBECI, for more than 25 years, has worked in central institutions such as INSTAT and the BANK of Albania engaged as an expert and technical leader in the preparation and publication of Macro statistical indicators, such as Business Statistics, Gross Domestic Product (GDP), Economy Unobserved, (NOE) Balance of Payments, (BOP) International Trade in Services, International Investment Position, etc. She is the author of the construction of the first statistical and electronic business register in the country and together with it, the establishment of the economic statistics system as an integral part of the Albanian statistical system. During this period, he conceived and implemented a series of projects for the quantitative and qualitative development of Albanian statistics and their alignment with EU international standards, in cooperation with international partners such as EUROSTAT, IMF, WB, UNECE, UNDP, OECD and the Statistical Offices of Central Banks of European countries, such as INSEE-France, ISTAT-Italy, SWEDEN Statistics, Bank of Italy, Slovenia, Germany, etc. In addition to statistical production, she has been engaged in teaching as an external lecturer for about 15 years at public and private universities in bachelor and master programs (University of Tirana, European University of Tirana, ERASMUS University – Holland) and since 2014 she has been first lecturer in statistics and demography subjects at UPOLIS. She has been a member of the UPOLIS Senate and Scientific Council since 2014. She is actively involved in the projects of POLIS University for the drafting of territorial development strategies of municipalities and local units created after RTA2014, contributing to the preparation of statistical assessments of the resident population and statistical analyzes of the demographic and economic situation of new municipalities. .
Godiva Rembeci (2022) "THE IMPACT OF DEMOGRAPHIC CHANGES ON SUSTAINABLE REGIONAL DEVELOPMENT POLICIES"3rd INTERNATIONAL SCIENTIFIC CONFERENCE ON PROFESSIONAL STUDIES AND LABOR MARKET, Durres-Albania, ISBN 978-9928-4714-4-4.
Godiva Rembeci (2021) "The impact of COVID-19 pandemic to Albanian economy and more specifically to SMEs sector". TDW2021 International Scientific Conference "The Post-Pandemic Right to the City" ISBN 978-9928-347-03-9
Godiva Rembeci,(2019) "Measuring the Performance of SMEs for Evidence – Informed Economic Development Policies in Albania". Annual Review of Territorial Governance in the Western Balkans, I, 2019, 98-106Journal of the Western Balkan Network on Territorial Governance Print ISSN 2706-6371 https://doi.org/10.32034/CP-TGWBAR-I01-0898
Godiva Rembeci, (2017) "SME's Performance Through Comparative Performance Indicators, Measured by Business Statistics- Albania Case". European Journal of Economics and Business Studies DOI: 10.26417/ejes.v9i1.p361-370
Godiva Rembeci, (2020) "The creative process of data gathering and analyzing in Dropull Municipality " Rurban Sequences. Inquiries on Dropull's states of Liminality. A project of the Joint International PhD Program IDAUP.UPOLIS Albania / University of Ferrara Italy, POLIS-Press ISBN: 978-9928-347-01-5
Godiva Rembeci, (2017) "Building an information system to enhance innovative SMEs in Albania".European Journal of Economics and Business Studies DOI: 10.26417/ejes.v7i1.p213-224
Godiva Rembeci, (2016) "Foreign Direct Investments as a Growth Factor for Stimulation of Economic Development and Albanian Position towards Balkan Region's FDI". Online International Interdisciplinary Research Journal, {Bi-Monthly}, ISSN 2249-9598, Volume-VI, Nov 2016 Special Issue (1)