POLIS MAKERSPACE START UP INCUBATION_2ND CALL
2022-09-14 10:50
POLIS MAKERSPACE START UP INCUBATION_2ND CALL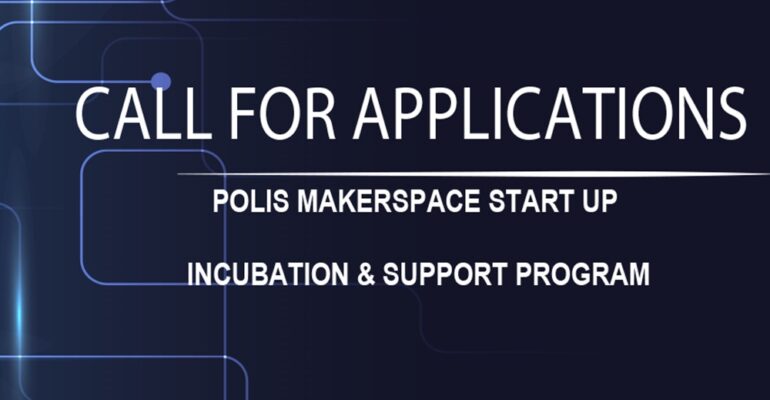 POLIS MAKERSPACE START UP INCUBATION_2ND CALL
POLIS Makerspace is delighted to invite interested applicants for the second round of applicants for its 'First Incubation Program', welcoming 5 new start-ups and/or independent innovators that are sure they can make a difference in the fields of Innovation and Making. The Makerspace program is delivered by POLIS University (Tirana) with the support of EU for Innovation Albania, SIDA (Swedish International Development Cooperation Agency), GIZ (German Corporation for International Cooperation GmbH), and seasoned European experts such as PRENEURZ Amsterdam. The selected teams will be provided with an unparalleled network of mentors, angels, venture capitalists, industry, and government partners specializing in supporting startups. Our structure offers an intensive three months of holistic training where we work side by side with you to sharpen your value proposition, your technical skills, and advice to successfully take your product to the market. Our team covers several subjects, and provides a real follow-up, whether from our crew or from their mentor. We are looking forward to meeting people working on technologies and products that are unique, and need guidance until the final prototyping phase, or are exploring areas of innovation where disruptive ideas can overcome yet existing barriers, such as IoT, Digital Manufacturing, Sustainable Technologies, etc.
You do not need to have a working product or an incorporated company to apply for our program because we are an early-stage program. What we need from you is an original idea bringing together enzymes of innovation and the motivation and driving force to make it happen.
Proposals from interested startups and businesses applying and participating in our Incubator will be evaluated accordingly to the following criteria:
– Quality of the proposed product ———20 points
– Potential market——————————30 points
– Quality of the Team………………………….30 points
– Low ecological footprint……………………10 points
– Empowering to women…………………….10 points
IMPORTANT DEADLINES
Application Deadline: 25th of September 2021
Selected applicants will be informed within the 28h of September 2021, and will be able to integrate the incubator starting from the 01st of October 2021.
You can apply by submitting an application proposal (1000 words) or a video (5 min) at
valerio_perna@universitetipolis.edu.al
where you will present yourself and your idea and convince us why you are the perfect people to join the MAKERSPACE! Much appreciated would be also to provide a personal CV.
WE LOOK FORWARD TO HEARING FROM YOU…