Ledina Ferhati
2023-04-03 20:42
Ledina Ferhati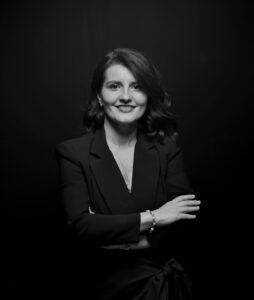 Dr. Ledina Ferhati graduated in 2004, from the Faculty of Foreign Languages, at the University of Tirana and in 2007 completed her master studies in the field of linguistics, focused in lexicology.
In 2019 she received the title of Doctor of Science (PhD) in Political Sciences and Humanities, concentrated on International Relations from the University of New York, Tirana.
Ms. Ferhati has long work experiences. In 2004 after completing her studies, started working at the Consulate of Ukraine in Tirana as a translator. Ledina first joined Eagle/ALBtelecom in 2010, where she contributed to media, public and institutional relations of the company.
In 2020, he completed the "Successful Negotiation" course at the University of Michigan, and in the same year he completed the 2020 edition of the Euro-Atlantic Summer Academy in Natolin, Poland, focusing on topics such as: the transatlantic digital divide, social media moderation, investigative journalism, technology Big Data, disinformation and election security, digital security, etc.
After completing her studies, she started working at the Consulate of Ukraine in Tirana as a translator for this institution. Ledina first joined the company Eagle in 2010, where she contributed in the field of media, public and institutions relations. In 2016, she became part of the market communication department at ALBtelecom. From January 2023, she appointed Manager of Public Relations and Internal Communication at ONE Albania company. Since 2004 she enumerates several academic experiences in different universities such as: University of "Tirana", "Aleksandër Moisiu" University, Durrës, "Epoka" University, "Polis" University. She is currently a full-time lecturer of the Business School, at Polis University.
Since 2017, Ledina is a member of the publishing board of the magazine "Humanus" (academic, literary and cultural magazine) and from January 2022 she was appointed coordinator of the Albanian Academy of Arts and Sciences.
She is fluent in English, Russian and has knowledge of Bulgarian and Italian languages.
Research interests include but are not limited to the following: EU policies and institutions, Russia's foreign policy, democratization, the role of political culture and institutions in fostering democracy and state building. Also, part of the field of interest and daily work are: the latest trends in marketing, public relations, communication, negotiation, business planning, event management.
ACTIVITIES / PUBLICATIONS
▪ 2008, Albanians as part of Odessa's history (historical essay) Translated by: Ledina Ferhati, A part of the essay was published in: "Shqip" newspaper.
▪ 2010-2017, Author of Eagle Mag's articles (ALBtelecom Magazine with more than 100 pages).
▪ 2011, Vendi pa emër (novel) ISBN 978-99956-11-84-2, Author: CeciliaAhern, Translated by: Ledina Ferhati, Pages: 424, Publishing House: Bota Shqiptare.
▪ 2013, Co-author of the article "Immigration and Identity Politics: Is Europe oversold? Fatos Tarifa & Ledina Ferhati, International journal "SociologicalAnalysis", ISSN 1097-7147, Volume 7, Number 1, Spring 2013.
 ▪ 2014, Co-author of the article "Post-Modern Utopia: Europe's Global Leadership in a Post-American World", Fatos Tarifa &Ledina Ferhati, International Journal of Civic,Political, and Community Studies (2014) Vol. 11, No. 1, pp. 33-43.
 ▪ 2015, Profecia e Romanovëve (novel) ISBN: 978-9928-00-119-1, Author: Steve Berry, Translated by: Ledina Ferhati & Klodian Brici, Pages: 408, Publishing House: Bota Shqiptare.
▪ 2016, Co-Author of the article "Russia's Foreign Policy: From Liberal Internationalism to NeoRevisionism, Ledina Ferhati &Fatos Tarifa, Outlook (2016), Vol. 1, No. 2.
▪ 2018, Author of the article "Russia a dualist state "presented at the third East-West Cohesion, International Scientific Conference, University of Dunaújváros in cooperation with Scientific Association for Spatial Development, Esztergom–Budapest.
▪ 2019, Co-Author of the article "The West, Russia and the Balkans" Ledina Ferhati & Fatos Tarifa, presented at the International Conference on Advanced Research in Social Sciences and Humanities, 29-31 March, 2019 in Czech Republic.