Edi Hila
2023-03-28 20:16
Edi Hila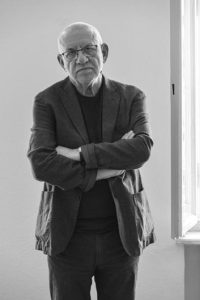 Edi Hila – was born in Shkodër, but lives and works in Tirana, Albania. As an important figure of the Balkan art scene, Edi Hila has borne witness to the Social and political history of Albania. Through his life experience, sensitivity and painting he reached peaks of great poignancy. In spite of the intellectual isolation caused by the communist regime, he attended the National Academy of Art in Tirana and managed to gain extensive knowledge of the art of XX century. After his artistic debut, during the seventies and eighties, he was forced by the regime to work in a government-run poultry processing factory as part of a reformation program. Only in the nineties – after the fall of communism in Albania – he returned to painting; defining the style and contents that still today distinguish his research. In his practice, time – historical and personal, photographic and pictorial – encounters space – exhibiting and personal, geographical and political. Hila's creative process is comprised of multiple sessions over which the artist reworks details, parts of the composition, layering, passages. Each of his works becomes a "pictorial palimpsest" embracing, in a formal and chromatic synthesis, various stages of his life that led him to create a specific work.
He has held teaching positions at the Fine Art Academy in Tirana for several decades since 1988., and during last decade as senior lecturer and researcher at the Art and Design School of Polis University, Tirana Albania. Hila received the Onufri Award in 1993 and 1998; in 2019 he was awarded the DAAD Artists-in-Berlin Program fellowship. At present time he is a member of the Council of Professors at Polis University, and mentors young researchers and academic staff of the Department.
Recent solo shows include The Sound of the Tuba, Secession, Vienna (2020); Edi Hila: Painter of Transformation, which originated at the Museum of Modern Art in Warsaw and travelled to the National Gallery of Arts, Tirana (2018); and Mirages of a Boulevard, Center of Openness and Dialogue, Tirana (2016). The artist has participated in a number of international exhibitions including: Life, without buildings, gta Exhibitions, ETH Zurich, Zurich (2022); Learning from Athens, documenta 14, Kassel, Germany, and Athens, Greece (2017); Potential Monuments of Unrealised Futures (with Adrian Paci), Architectural Association, London, travelled to Albanian Pavillion at the 14th International Architecture Exhibition, La Biennale di Venezia, Venice, Italy (2014); The Desire for Freedom, Art in Europe from 1945 to the present day, Historical Museum, Berlin; travelled to Palazzo Reale, Milan, Italy and Kumu Art Museum, Tallinn (2013); Touched, Liverpool Biennial, Liverpool, UK (2010); Blood and Honey – The Future's Balkan, Essl Museum, Vienna (2003); After the Wall. Art and Culture in Post-Communist Europe, Moderna Museet, Stockholm (1999); travelled to Hamburger Bahnhof, Berlin and Museum für Gegenwart, Berlin, and Ludwig Museum, Budapest (2000); and the Albanian Pavillion at the 48th International Art Exhibition, La Biennale di Venezia, Venice, Italy (1999).
His work is represented in collections of museums such as: Museum of Modern Art in Warsaw; Musée national d'art moderne Centre Georges Pompidou, Paris; Fonds municipal d'art contemporain de la Ville de Paris; FRAC Pays de la Loire, France; FRAC Auvergne, France, and the National Gallery of Arts, Tirana.