Besnik Aliaj
2023-03-28 21:02
Besnik Aliaj
Rector / Architect-Urban Planner
BESNIK ALIAJ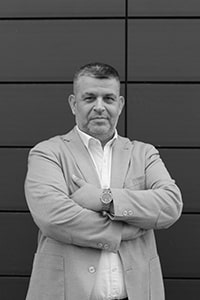 Prof. Dr. Besnik Aliaj is one of the founders and current rector of POLIS University, Tirana. He completed his university studies at the University of Tirana, Faculty of Civil Engineering, where he graduated as an architect-urban planner in 1990. He worked for the first 2 years in the local government as an urban planner, and then for 16 years as a lecturer and head of the basic unit at the Polytechnic University of Tirana, Department of Architecture and Urbanism, where he completed the degree of "Doctor of Science" and received the academic title "Professor". The Doctorate degree was earned after previously completing postgraduate studies at the Erasmus University /IHS Rotterdam, the Netherlands. From 2007 until today, he has dedicated himself to the establishment and consolidation of the non-public university POLIS in Tirana, where he earned the title of "Docent".
Prof. Aliaj has many specializations and professional exposures, including: Denmark, Norway, Holland, Germany, USA, Africa, Latin America, etc. He has had semester academic engagements at Tirana University of Arts, and Darmstadt University Germany, as well as a participation as a lecturer and main contributor in many international scientific conferences and events. He is an external member of the scientific commissions of the Academy of Sciences of Albania.
Parallel to the academic career of Prof. Aliaj has a rich career as an urban and intellectual activist. He is one of the founders of the Institute for Habitat Development, Co-PLAN, and has successfully run it for a decade. Then he had a special experience in the central government, where he worked as an advisor to the Prime Minister of Albania, for territorial planning reforms, formalization of the economy and construction, etc. Prof. Aliaj has been a participant in several reform teams in the country and in different governments, including: decentralization, regionalization and administrative division, education and science, etc. He has a rich CV with publications, scientific articles and monographs. His work includes expertise, consultancy and projects with communities, local, regional and national governments, not to mention cooperation with international institutions such as the World Bank, UN development programs, EU education and science programs (Erasmus, Horizon, IPA), etc., as well as Albania's bilateral cooperation with the governments of the Netherlands, Austria, USA, Italy, Switzerland, Germany, Sweden, etc.
Prof. Aliaj has been an elected councilor in the Tirana City Council three times and has received the title "Nobility of Tirana". He has also received the title of "Citizen of Honor" in the Kamez Municipality. He is a winner or has been nominated in several professional competitions or national and international awards, including the World Urban Forum, Mies van der Rohe Award, as well as recognition of contributions from the US State Department, the Dutch Parliament, the World Bank, the UN Habitat Program, etc. . He has published works in Albanian, English, Slovenian, German, Italian, Dutch. He is the co-founder of 2 scientific periodicals in the country, and of two architecture and design biennials in Tirana.
Dhamo, S. Thomai, Gj. Aliaj, B. (2022) Saranda, the Missing City. Polis_Press ISBN: 978-9928-347-06-0; Scientific Publication Series: THE MISSING CITIES
Aliaj, B., Dhamo, S., Luarasi, S. (2022) Rethinking Gjirokastra. Can architecture and city planning stimulate hope and growth for shrinking cities? – A Project of the Joint International PhD Program IDAUP. POLIS University Albania/Ferrara University Italy; POLIS_Press; ISBN: 978-9928-347-04-6; OMB – Observatory of the Mediterranean Basin
Aliaj, B. (2020). Reinventing city planning in a context that "hates" planning! A new role for architects, city planners and institutions. Informality through Sustainability, chapter 20, 317-332, Routledge, https://doi.org/10.4324/9780429331701
Aliaj, B., Dhamo, S., Kristo, S., Stiller, A. (2019) Albania. Decades of Architecture in Political Context. Architektur im Ringturm LVI. ISBN 978-3-99014-082-6 https://www.muerysalzmann.com/online-shop/albanien
Aliaj, B., Nientied, P. (2019) The Public in Search of Identity: New Symbolism in Urban Spaces. A Study of Central Squares of Balkan Capitals. The Role of Public Sector in Local Economic and Territorial Development, 203–237. EAI/Springer Innovations in Communication and Computing. Springer, Cham. https://doi.org/10.1007/978-3-319-93575-1_12