Franceska Korance
2023-03-22 22:06
Franceska Korance
Researcher and Assistant Lecturer
FRANÇESKA KORANÇE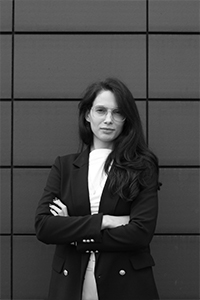 Françeska Korançe studied Environmental Engineering at the Polytechnic University of Tirana, has a Bachelor's degree in Civil Engineering, as well as a Master of Science in Urban Environmental Management from Polis University. Currently, she is a Ph.D Candidate. in the international doctoral program in Architecture and Urban Planning, a program between the University of Ferrara, Italy and the University of Polis, Albania, with a focus on the growing link between environmental pollution and public health in urban areas. At Polis, she is a lecturer in the following subjects: Environmental Impact Assessment (EIA), Water Treatment Technologies (TTU) and Environmental Economics.
Franceska has more than 10 years of experience in Civil Society Organizations (CSOs). Since January 2015, the year in which she founded the Build Green Group organization, she has worked as an Executive Director, researcher, environmental specialist and consultant in the field. Franceska Korançe has experience in the field of environmental research and consultancy. She also has experience in managing projects that focus on climate change (such as ERASMUS+) and sustainable development. In addition, it has also provided expertise as in the case of IPA projects. Also, she has had experience as part of the consultation group for research works on the circular economy in the Western Balkans, where, among other things, she was one of the panel members in the Online Talk Forum "Circularity is a Virtue-An Introduction to Circular Economy and Field Perspectives from the Western Balkans". organized by the Council of Europe in cooperation with the World Forum for Democracy/Forum Mondial de la Démocratie and The Balkan Forum.
Korançe, F. (2022). Environmental activism. The Western Balkans Case. https://doi.org/10.13140/RG.2.2.27977.01120. 
Korançe, F. (2022). Matja e qëndrueshmërisë së Lumit Vjosa. https://doi.org/10.13140/RG.2.2.20495.10401.
Korançe, F. (2021). The growing relation between environment and public health. SciMedicine Journal, 3(2), 100-115. https://doi.org/10.28991/SciMedJ-2021-0302-3.
Korançe, F. (2021). Sustainability of the build environment and its impact on user performance. Case study Polis University. VITRUVIO-International Journal of Architectural Technology and Sustainability, 6(1), 56-71. https://doi.org/10.4995/vitruvio-ijats.2021.15009.
Korançe, F. (2021). Measurement of the sustainability of the river Vjosa.' https://doi.org/10.13140/RG.2.2.20495.10401.
Korançe, F. (2021). Vlora airport construction. Assessment of main environmental impacts and thecost-benefit analysis. https://doi.org/10.13140/RG.2.2.11647.53928.
Korançe, F. (2021). Access to Nature and its Impact on Performance and Psychological Wellbeing at Work. International Journal of Academic Research and Development, 6(2), pp. 31-39.