Vjola Ziu
2023-03-28 20:34
Vjola Ziu
Lecturer assistant
VJOLA ZIU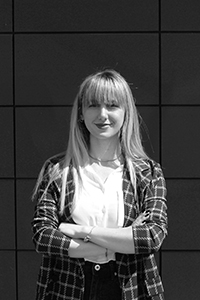 MSc. Vjola Ziu is an assistant lecturer in the Art and Design department, and at the same time a graphic designer who deals with the marketing graphics part of POLIS University.
He is a POLIS ALUMNI where he graduated with a Bachelor's degree in "Art and Design" and a Master's degree in "Applied Design". She worked for a period of 3 months (seasonal) for 3 consecutive years as a photographer and photo editor in a photography studio. After a few years of experience in the labor market as a graphic designer in Italian and Albanian companies, she returns to POLIS University now as a lecturer in the subjects: Fashion Design, Multimedia Design, Visual Language.
During the period of studies, he participated in 6 collective and 1 personal exhibitions in 2013.
He participated in the workshops of Tirana Design Week and Tirana Architecture Week: BioPlarch, Tirana DressmeUp, Taxonomy-Architecture as an act of curation
It was part of the "100 villages" project as a graphic of LOT-16
It deals with Photography and Design in the "Modules and Models" exhibition