Thoma Thomai
2023-03-29 21:03
Thoma Thomai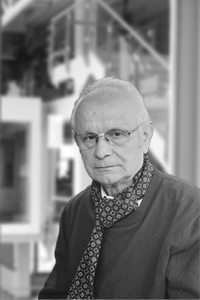 Prof. Thoma Thomai-Dhamo graduated from the Academy of Fine Arts, Architecture and Design in Prague, Czech Republic, majoring in Applied Sculpture. Prof. Thomai has made a significant contribution since the first year of the opening of POLIS University, being both an internal lecturer and the first Rector of this university. He currently contributes to the Studio of Plastic Knowledge that takes place in the Art-Design study program. He is a member of the Council of Professors at Polis University, and mentors researchers and new staff in the department.
Since 1969, Professor Thomai has been the founder of the "Applied Arts" workshop in Higher Institute of Arts (University of Arts). Furthermore, he was head of the Department of Applied Arts and also the first Dean of the Faculty of Fine Arts. Since 1995, he holds the title of Professor.
Professor Thoma Thomai has participated in national and international exhibitions such as the Mediterranean Biennial in Alexandria; Albanian Contemporary Art in France; Albanian art in Rome; the Eurasian Biennale in Akara (where it was awarded the special jury prize); Exhibition of artists from Mediterranean at the Ephebe France Museum; Guest of honor at the International Biennial Cairo, etc.
He has created several monumental works, among the most important being the Skanderbeg Monument in Skopje, Macedonia; Memorial of the Martyrs "Mother Albania" in Kîçovo, Macedonia; the statue of Mother Teresa at Rinas airport in Tirana, and in Rio Brasil; Fan Noli's statue in Tirana, and many others.