Sadmira Malaj
2023-10-30 12:09
Sadmira Malaj
Student Ph.D.
Sadmira Malaj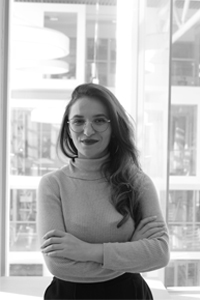 Sadmira MALAJ, Coordinator in the OMB/UNECE Research Unit, Assistant Lecturer, and Ph.D. Student.
From an academic point of view, she has completed her studies in the 5-year integrated Program in Urban Planning and Management at Polis University, currently pursuing a Doctorate, in the field of 'Future Mobility and its Impact on Urban Form'.
In September 2022, Sadmira joined POLIS University in the role of Assistant Lecturer in the Urban Planning and Management department. During this period, she was also engaged in the Projects Unit, as a scientific researcher in various national and international projects.
Starting from April to 2023, Sadmira is in the role of Coordinator in the OMB/UNECE Research Unit, at POLIS University. During this period, her contribution consisted in fostering collaborations between academia, local and international authorities and urban development professionals. Translated this into research projects or organizing academic/scientific events. Also, she is part of the Editorial Board of the Scientific Journal of the Observatory of the Mediterranean Basin, a periodical published in collaboration with IDUAP / University of Ferrara, published by POLIS Press.
In February 2018-July 2022, Sadmira has been engaged as a Lecturer Assistant at the German University of Technology, Oman. In addition to this commitment, Sadmira is a co-author and contributor to various publications in the field of architecture and planning on topics such as; Green City & Urban Farming during COVID19, Housing, Mobility & Transportation, Placemaking & Co-designing, etc. During her engagement at the German University of Technology in Oman, Sadmira was also engaged in the coordination of two research projects.
Fields of interest and scientific research: transport planning, streetscape, placemaking & CO-designing, traffic management, smart mobility and transportation, etc.
"Construct Validity of the Physical Activity Neighborhood Scale-Oman." Frontiers in Public Health 11: 844
Authors: Linhares De Siqueira, Gustavo, Ruth Mabry, Huda Alsiyabi, Ahmad Adeel, Sadmira Malaj, and Adewale L. Oyeyemi. 2023
"Digitalization, Participation and Interaction: Towards More Inclusive Tools in Urban Design—A Literature Review" Sustainability 14, no. 8: 4514.
Authors: De Siqueira, Gustavo, Sadmira Malaj, and Mayssa Hamdani. 2022
"CAM and last chance for suburbia, towards a sustainable transportation system in Tirana"; (On Process)
Authors: Sadmira Malaj, Leonora Haxhiu, Gustavo de Sequeira, Dorina Pojani
What is the best strategy to densify a sprawling city? Evidence from the Arabian Peninsula; (On Process)
Author: Gustavo de Siqueira, Sadmira Malaj, Dorina Pojani, AhmadAdeel
"Future of Transport is Circular, The Role of Sustainable Economy Concepts in Transport Infrastructure, Literature Review"; (On Process)
Authors: Elona Karafili, Sadmira Malaj, Ledio Allkja
"Street Junctions as a Bottleneck of traffic. Analysing and valuing the existing situation of traffic nodes in Tirana"; (On Process)
Authors: Sadmira Malaj, Armela Reka,
"Smart Parking Management System. Leveraging IoT Sensors and Video Recognition for Enhanced Urban Parking Availability, Case Study: Tirana"; (On Process)
Author: Sadmira Malaj, Mayssa Hamdani
International Conferences:
Towards Sustainable Urban Planning in Western Balkan Region, Literature Review; International Scientific Conference – GREEN AGENDA FOR WESTERN BALKANS, June 20-22, 2023, Belgrade, Serbia
Authors: Flora Krasniqi, Sadmira Malaj
"Facilitating Circular Economy for more Resilient Road
Transportation, in the context of Albania"; International Conference CEI "Circular Economy: Opportunities and Challenges. November 17-18, 2022, Tirane, Albania
Authors: Sadmira, Malaj, Godiva Rembeci
Green Pocket spaces strategy for active and inclusive communities in Muscat. DOI: 10.47472/kn2Sap7t . Conference: 58th ISOCARP World Planning Congress, January 2022, Brussel, Belgium
Authors: Gustavo DE SIQUEIRA, Iman Al Ofi, Sadmira Malaj, Ercan AGIRBAS, Ruth MABRY, Joleza Koka
Where Albania Walks ProjectPedestrianization strategies for healthier and inclusive neighborhoods, a report from the fie, DOI: 10.47472/ivgkRZBo – Conference: 58th ISOCARP World Planning Congress, January 2022, Brussel, Belgium
Authors: Joleza Koka, Gustavo de Siqueira, Sadmira Malaj, Ana Rushi
Researcher on International Research Projects:
"Curricula innovation in climate-smart urban development based on green and energy efficiency with the non-academic sector / SmartWB"; Erasmus Capacity Building Project in Higher Education;
Transport of Dangerous Goods – Modernization of Curricula and Development of Trainings for Professionals in the Western Balkans HEIs; Erasmus Capacity Building Project in Higher Education