Melisa Tufa
2023-03-27 23:02
Melisa Tufa
Assistant Lecturer
MELISA TUFA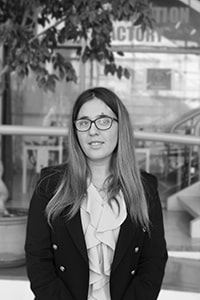 Melisa Tufa is a laboratory assistant at the Faculty of Research and Development, Department of Scientific Research, School of Computer Science. He has participated in many workshops and intensive qualifications in the field of Computer Science and Information Systems, and he is completing the MSc qualification at Polis University. She assists the teaching process in some subjects near the department.
Education: "Professional Master" in Computer Science, and "Bachelor" in Information Systems, Faculty of Computer Science, University UAMD Durres. Her current areas of interest include: Java Programming / Data Structure / Web Programming / Data Management Systems, etc. 
AREAS OF INTEREST / SUBJECTS
Web programming
Programming in Java
Data structure
Data Management System
Multimedia Design
SELECTED ACTIVITIES / PUBLICATIONS
Smart Technology Workshop with the theme: "Design and development of a Website through CMS systems" – February 25, 2023.
Participant in "HPC & WBC Network Workshop" – November 17, 2022.
Participant in the "Energy, Construction & Green Economy 2022 Trade Fair" – November 11, 2022.