Marsela Plyku
2023-04-03 21:04
Marsela Plyku
Urban Planner
MARSELA PLYKU DEMAJ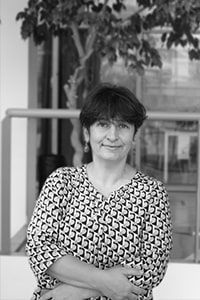 Marsela Plyku DEMAJ is an urban planner and expert in the field of conservation and restoration of material cultural heritage. Since October 2022, she is part of the academic staff of Polis University and at the same time a candidate for doctoral studies in architecture offered by Polis University in collaboration with the University of Ferrara.
Marsela completed her university studies in 2004 at the Middle East Technical University, Ankara, Turkey, from where she received the title of Urban Planner. During her engagement as part of the staff of the Regional Directorate of Cultural Monuments, Berat, she completed the Second Level Master's studies in Architectural Surveying and Restoration from a joint TEMPUS program between La Sapienza University in Rome, the Polytechnic University of Tirana and Universidad de Valencia in Spain (2004-2006). In 2006, Marsela joined the staff of the Institute of Cultural Monuments (today the National Institute of Cultural Heritage) where she completed the 2-year specialization school in conservation and restoration of architecture (2007-2009) offered by UNESCO.
Marsela has 18 years of work experience at the National Institute of Cultural Heritage, during which she was the author and co-author of many conservation/restoration projects, as well as supervising the implementation of restoration works. As part of the technical groups, she has been engaged in the preparation of files and management plans for the declaration of the "World Heritage" of the Historical Centers of Berat and Gjirokastra (2008), as well as for the declaration of the "Natural and Cultural Heritage of the Ohrid Lake Region" " (2015-2019). During the years 2014-2019, she was a member of the Scientific Council of the Institute of Cultural Monuments (today IKTK), an advisory body of the National Restoration Council (today KKTKM). During 2014-2022, she was a member of the Editorial Board of the periodical "Monumentet", the official scientific publication of the National Institute of Cultural Heritage. In 2020, she was part of the national team that prepared the official Post Disaster Needs Assessment document after the November 2019 earthquake in Albania (culture chapter). In the capacity of the head of the sector of the Regional Center for Conservation and Restoration, IKTK, (2015-2022), she is engaged in the conception and implementation of programs for strengthening professional capacities (national and regional training courses as well as Restoration Workshop) under the coordination of UNESCO.
The main areas of interest include the development of management plans for cultural heritage sites and world heritage areas, the drafting of heritage impact assessments for historical centers, archaeological sites, etc. She has a special interest in the interdisciplinary approach. which includes urban planning, cultural heritage, sustainable development and community.
Plyku Demaj, M (in process) "Prof. Dr. Aleksandër Meksi, Mosques of Albania, History, Architecture, XV-XIX centuries, AIITC, Tirana 2015″, Review, Monumentet 61, 2022
Plyku Demaj, M., (2021); Introducing the "Risk Component" in Heritage Management Planning; International Conference, Athens, July 7-9, 2021, PROCEEDINGS, In the frame of the project"Mo.Na: Monuments in Nature: A Creative Co-existence", ISBN 978-960-9677-06-6
Plyku Demaj, M. – Gjata, K., (2021) "Rapid Damage Assessment in Earthquake Damaged Heritage Buildings. Case Study of 2019 November 26th Earthquake in Albania"; International Conference, Athens, July 7-9, 2021, PROCEEDINGS, In the frame of the project"Mo.Na: Monuments in Nature: A Creative Co-existence", ISBN 978-960-9677-06-6
Plyku Demaj, M. – Gjata, K.; (2020) "Post Disaster Needs Assessment Albania– Volume A and Volume B; Culture sub-sector", pg.62-69
Gjata, K.-Çuku, R.-Plyku, M.; (2014); "Architecture, identity and construction phases of the Byzantine church of Saint Mary Vllaherna, Berat"; Monumentet 52 / 2011-2014, Tiranë