Kristiana Meço
2023-03-27 23:12
Kristiana Meço
Teaching Assistant in Architecture
KRISTIANA MEÇO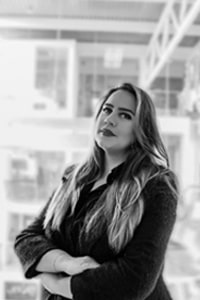 PhD.C. Kristiana Meço studied MSc. Faculty of Architecture and Design, Master of Science in Architecture and Urban Design, POLIS University, Tirana, Albania, 2014-2019, also attended the Summer School of Architecture, Anhalt University of Applied Sciences -BAUHAUS, Dessau, Germany, June 2017- July 2017, Master in Cultural Landscape Planning and Promotion, UNIMOL University, Molise, Italy, February 2018 – July 2018 Erasmus + Mobility is also now part of the Doctorate studies between POLIS University and the University of Ferrara in Italy.
She has participated in the international Re-search project at UNIMOL for: "Cultural Landscape", "History of Arbëresh in the cultural landscape of Molise", Italy 2018. He also participated in the development of the project: Academy of 100+ villages, organized by AKPT at POLIS University, Tirana 2018. Participated in the "Environment and Sustainability" Conference: Speaker for the Urban Design Project: Tragjasi | Villages in Albania at POLIS University, Tirana, April 2018.
Assisted "A Sustainable Spoon Project" by Kiersten Muenchinger during TDW, Tirana Design Week organized by Polis University, Tirana, September 2019. She also worked as an Architect in a Canadian architecture studio, during the period 2018-2019
Since 2019, she has been part of the staff of POLIS University full-time, registered as an assistant lecturer. He is also part of the scientific review sites in architecture as "Editorial Team" at FORUM A+P.
TDW2021 (Tirana Design Week 2021) International Conference "The postpandemic right to the city". Title of Research Article: Contemporary restoration models Is there an alternative regarding the development of historical centres? Authors : Kristiana MEco, Skender Luarasi, Llazar Kumaraku
To be published from: Polis International PhD Workshop (Planning Cities for the Post Pandemic crsis. Aspects of territorial sustainability and resilience in Lezha Region, Albania.) Journal Publication with Topic: Preservation of cultural heritage in Lezha City
Accepted Scientific Paper Forum A+P 23 International Scientific Magazine Journal Publication with Topic "Report From Durres Earthquake"
Sustainability of the City through Form part 1// 08.02.2021// 12.02.2021
Sustainability of the City through Form part 2 // 14.06.2021//18.06.2021
Ferrara International PhD Workshop IDAUP PART 1 – 7th International Workshop of Ferrara (Digital Transition in Research)// 15.07.2021 -22.07.2021
Ferrara International PhD Workshop IDAUP PART 2 – 7th International Workshop of Ferrara (Digital Transition in Research) // 11.10.2021 -16.10.2021
Polis International PhD Workshop (Planning Cities for the Post Pandemic crsis. Aspects of territorial sustainability and resilience in Lezha Region, Albania.) // 8.11.2021 -19.11.2021