Albi Alliaj
2022-10-18 12:01
Albi Alliaj
Assistant lecturer
ALBI ALLIAJ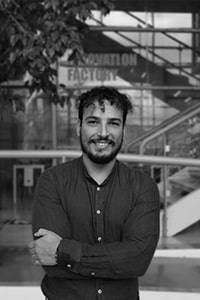 Experienced Structural Engineer with a demonstrated history of working in the civil engineering
industry. Skilled in BIM software programs, construction law, algorithmic–aided–design and
project management. Strong engineering professional with a Master of Science – MS focused in
Structural Engineering from Polis University.
POLIS University (October 2021 – present)
Assistant lecturer, researcher, designer TIRANA, ALBANIA:
Lecturer at subjects: Computational Design and Structural Analysis.
Assistant lecturer at subjects: Materials of Construction, Technology of Construction 1, Technology of Architecture 1, Technology of Construction 2, Technology of Architecture 2, Sustainable Design, Science of Construction 1, Mechanics of Rocks;
I have done the structural projects of two high schools; Gjergj Kastriot Skënderbeu and Naim Frashëri in Durrës, Albania, as part of the program of rehabilitation of objects damaged by the earthquake;
Scientific researcher in the Department of Architecture, Engineering and Design, where the work mainly consisted in the automatization of processes using the software Grasshopper, as well as translating scientific books for academic purposes;
Water Resources Management Agency (www.ambu.gov.al)                                    November 2019 – October 2021 Water Resources Engineer, executive level TIRANA, ALBANIA:
Controlling technical and legal documents of applications for water use permits;
Providing the registration of permits in the National Water Register;
Providing the public or users participation for the discussion of legislative acts developed by the agency;
Suggesting the permit suspension, modification or cancellation, in case of violation of water use by water users;
Reviewing construction permits applications send by municipalities;
Reviewing applications for Environmental Impact Assessment permits send by the National Environment Agency;
Proges Engineering sh.p.k  (www.progesengineering.com)                                                                  June 2018 – October 2021 Structural Engineer
TIRANA, ALBANIA
Calculation of cost of work items and materials;
Design of structural projects.
Projects:
Terminal 3 of Rabat-Sale airport, Morocco;
Five residential building for students of Sapienza, Rome;
Terminal of SCC Central Station, Turin, Italy;
Shopping Mall "Valmontone Outlet" expanssion in Valmontone, Italy;
Church of Sant'Agostino, Italy;
Office Building Antirion Oceano Pacifico;
Olive Oil Fabric, Frantoio Seggiano in Pian dei Cerri, Seggiano;
Villa in Via dei Cereali, Rome;
Campus University Bio-Medico + parking area, Italy;
Gërmime dhe Transport Alliaj (2013 – 2018)
COO
VLORA, ALBANIA:  
Making major company decisions, managing the overall operations and resources of the company;
Being responsible for planning, organizing, and directing the completion of specific projects while ensuring these projects were on time, on budget, and within scope; Working as a truck driver and as an excavator operator.
Projects:
Hindrance structures that deflect the direction of the river of Vjosa in order to prevent the flood of the towns nearby;
A segment of the highway Fier – Vlorë;
Sewage systems of Narta and Vlora;
Several reconstructions of roads in Vlora.
Master's degree in Structural Engineering 9.3/10 2016 – 2018
Polis University, Albania;
Diploma thesis: Design of a thin concrete shell as part of the reconstruction of a cultural heritage building 98/100

Erasmus +, Structural Engineering 2017 – 2017
University of Minho, Portugal;

Bachelor's degree in Civil Engineering 8.9/10 2013 – 2016
Polis University, Albania;
LICENSES AND CERTIFICATIONS
Design Licence for reinforced concrete, timber and steel structures, water supply systems and trafic signs, issued by Ministry of Infrastructure and Energy, Albania (2021)
Public Administration Foundation License, issued by Albanian School of Public Administration (ASPA) (2020)
GRE, 305 score (2020)
TOEFL, 101 score (2020)
Teaching English as a Foreign Language (TEFL) license for 160 hours; (2019)
Participant in Erasmus + program, attending one semester in University of Minho, Portugal; (2017)
Driving license Class B and C. (2016)
Translation of the scientific book "Reinforced Concrete Design to Eurocode 2, B. Mosley, J. Bungey and R. Hulse" 2022;
Project of public hearings for the design of Water Resources Management plan of basins Ishëm, Mat and Erzen 2021;
Completion of the EU-funded Technical Assistance to Flood Protection Infrastructure in Albania 2021;
Strengthen of the interborder cooperation and Integrated Water Resources Management in basin of Drin river 2021;
Design of Water Resources Management plans of basins of Drin-Buna and Seman 2020;
Drafting of the current legislation regarding the application for Water Resources Permit 2020.
Organizing and supervising several National Water Councils meetings 2020/2021;
IUSY Balkan Round Table Committee Leadership Conference 2019;
TDW Conference 2018;
TDW Conference 2017;
TAW Conference 2016;
TAW Conference 2015;
TAW Conference 2014.