Gjergji Ikonomi
2023-03-29 8:44
Gjergji Ikonomi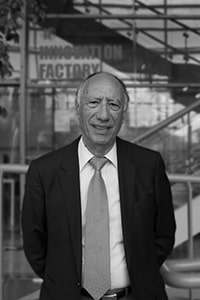 Prof. Dr. Gjergji Ikonomi – completed his university studies at the Faculty of Civil Engineering, Tirana, graduating as Civil Engineer for civil, industrial and hydrotechnical constructions (Tirana Polytechnic University, 1967). Lecturer at the Department of Hydraulics and Hydrotechnical Works (1968). Appointed Vice-Dean of the Faculty of Civil Engineering (1978-1979). Appointed head of the Department of Hydraulics (1989-1993). Appointed Deputy Dean of the Faculty of Construction Engineering (1993-1998). Appointed Head of the Environmental Engineering Department (1998-2002). Head of the Environmental Engineering Department (FIN UPT, 2002-2013).
From 1914 now, he works as a senior lecturer at Polis University; Faculty of Planning, Environment and Management, Department of the Environment. He is a member of the Council of Professors at this university, where he leads and coaches young researchers and staff since many years. He also completed specializations in various European universities such as: Italy, France, Switzerland, Russia and Germany. He speaks foreign languages, like: French, Italian, Russian.
He has been a senior lecturer in lectures series and seminars at the university and post-university level: including 9 subjects; author of 6 teaching texts; as well as author of lesson plans, teaching programs, projects of equipment to help the teaching process, leadership of diplomas, etc. He has a rich menu of publications, including:
• Studies and experiments in the field of hydraulic modeling (governmental studies);
• Scientific articles at home and abroad; Monographs, scientific references, domestically and abroad; Implemented projects; Participation in national and international projects; Dissertation supervision (PhDs); Leadership of SHPU micro-theses; Supervision of defended micro-theses and doctorates; Other works such as critics, doctorate reviews and monographs, etc.